Mitsubishi L200 17 ALLOY WHEELS REFURBISHED MATTE BLACK OPTION TO ADD TYRES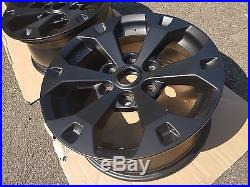 Genuine OEM parts Far better than cheap aftermarket rims or Chinese copies Straight & true. No buckles or cracks Just been freshly refurbished this week and have not had tyres refitted since the refurbishment.
WHEN WE SAY'REFURBISHED' WE MEAN REFURBISHED.. WITH NO LESS THAN A COMPREHENSIVE 7 STAGE PROCESS; 1 REMOVAL OF TYRES, BALANCING WEIGHTS, TYRE PRESSURE VALVES, CENTRE CAPS - straight away separating the men from the boys! Do not fall for the old rattle can treatment where they mask off the tyre and give your wheels the Halfords treatment. They may shine from the surface but the finish reveals its true colours literally weeks down the line 2 CHEMICAL STRIP OF PAINT, PRIMERS & IMPURITIES - no nonsense approach to getting your wheels right back to bare metal.
No painting over paint with the professionals! Our specially formulated acid is tough enough to remove the most stubborn of primers (regardless of layers and how many times the wheel has previously been painted). With its unique formula it reacts to paint and not the alloy itself making it the safest and most effective on the market by far! 3 SHOTBLASTING - ever had your wheels bubble up even though you haven't curbed or damaged them?
This is the result of underlying corrosion which isn't treated by simply sanding down and painting over! Our expert in-house team have available to them the very best blasting media tested & approved for the refurbishment of alloys.
Be VERY CAREFUL who you take your wheels to for blasting. We have had customers looking to save a buck come to us with golfball sized craters in their precious wheels!!! They did their research on car forums and saw how easy it is to DIY painting wheels after getting them shotblasted by the local blasters/powdercoaters. Some things are best left to wheel refurbishment specialists...
And with good reason too! 4 HAND PREPPED & SANDED - the make or break of a good wheel refurbishment is in the intricate detail. Our team use the most basic of tools to make sure no shortcuts are taken in this stage of the process. Places that angle grind their way through a wheel-a-minute can easily miss the less noticeable bumps'n nicks in between the spokes or around the lip. You can't go wrong with good old-fashioned sandpaper and an eye for detail!
5 DEGASSED AT 180C+ - the final piece of the puzzle in removing any impurities and gas that can later cause the wheel to bubble. We have custom built ovens to accommodate alloy wheels and with the right heat circulation and thermostats, ensure the structure of the wheel is protected throughout! 6 3 LAYER POWDER COAT & OVEN CURE - where the magic happens. Our state of the art electro static charged equipment applies the coating carefully/evenly all the around the wheel 360 degrees!
Layers of powder coat primer, colour coat and clear lacquer are each cured in the oven before the process is repeated for the next coat. This ensures a tight seal for superior durability.
Something you just don't get by popping the tyre bead and masking up the bits you can't be bothered to paint because you think the customer will never see them! 7 INSTALL NEW TYRE PRESSURE VALVES, REFIT TYRES & WHEEL BALANCING - now that your wheels are looking no less than brand new if not better! We go about getting them ready to go back on your vehicle. Please note: we have over 15 years of experience in the trade and are more then happy to help with any queries you may have if unsure. Centre caps and tyres are not included unless specified in the listing. Pictures used may be for illustration purposes as we often hold multiple sets of the same wheels undergoing refurbishment. We aim to provide excellent customer service as well as aftercare. Wheel Deals - The Alloy Wheel Specialists Unit 1 Eton Business Park Derby Rd Burton Upon Trent DE14 1RR 01283 567 800 / 07791108226. The item "Mitsubishi L200 17 ALLOY WHEELS REFURBISHED MATTE BLACK OPTION TO ADD TYRES" is in sale since Saturday, March 24, 2018. This item is in the category "Vehicle Parts & Accessories\Car Wheels, Tyres & Trims\Wheels with Tyres". The seller is "wheel-deals-uk" and is located in Burton-on-Trent. This item can be shipped to United Kingdom.